Potassium Humate
Property
Potassium humate is extracted from natural high grade Leonardite, with excellent solubility. It contains 60%min humic acid, which can stimulate plant growth, prompt root development and increase yield and improve quality of plants.
Our factory provides high-quality products for a great number of clients in China, and earns the trust and support from numberous countries.
Hote sale for oversea market: Potassium Humate, Humic Acid, Fulvic acid.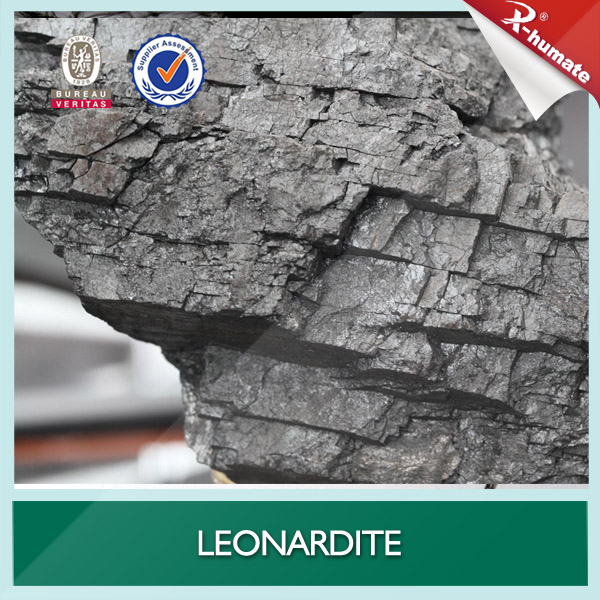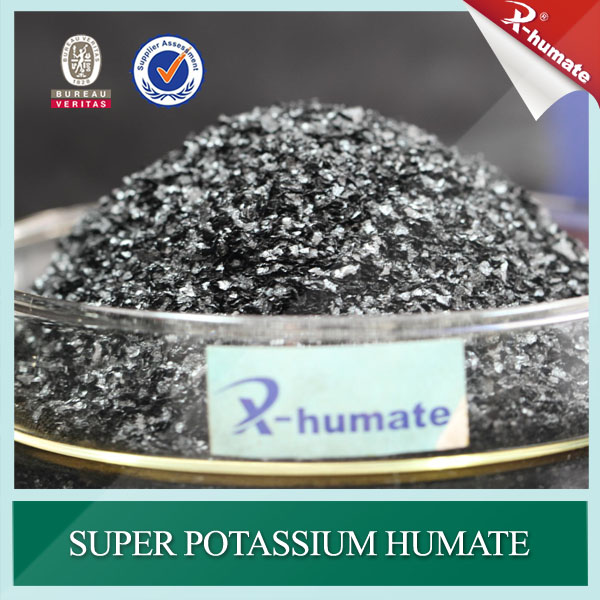 Benefits:
Potassium Humate for Soil:
Soil conditioner. Improve soil structure. Increase ion exchange capacity of soil.
Enhance resistance to stress for soil, especially reduce high salts in alkaline soils.
Prevent soil from contamination of heavy metallic ions as well as other harmful matters.
Fertilizer efficiency promoter. Greatly improve the utilization of N & P
Increase capacities of water holding and cation exchange
Enhance soil ability of Anti-hard water
Potassium Humate for Plant:
Stimulate plant growth
Promote root development
Stimulate seed germination
Increase yield and improve quality of plants
Improve nutrient uptake through the leaves and roots
Improve the effectiveness of pesticide
Application:
Used as muliti-functional compound fertilizer, combined with Nitrogen and Phosphorus, also used as basal fertilizer, top dressing, seed fertilizer, foliar fertilizer.
Basal fertilizer: 400-600kg/ha, have better effective applying with N P fertilizers
Top dressing: 300-400kg/ha, have better effective applying with N P fertilizers, and irrigate in time.
Packaging & Shipping

Potassium Humate in 20,25kg plastic woven bag or kraft paper bag, or 1kg,5kg,10kg as requirments.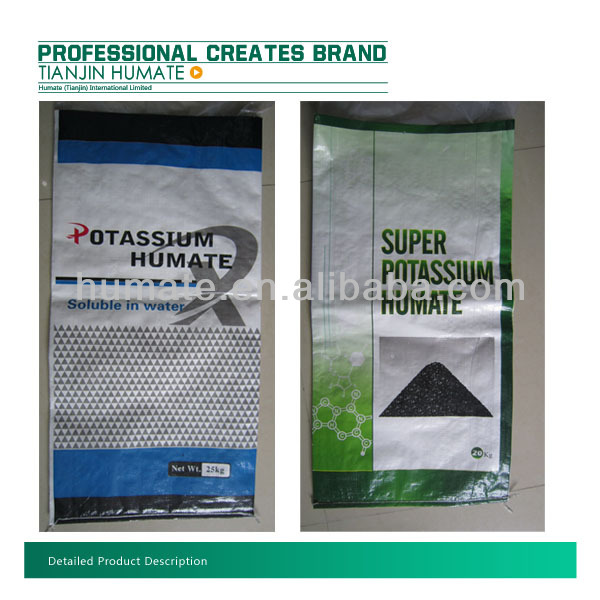 Our Service
1.We areprofessional manufacturer engaged in various humate salts for more than10years.
2.Yourinquiry could be reply within 24 hours.
3.We couldaccept 1 ton as trial order to support our customer.
4.Thepayment terms we could accept T/T, D/P, L/C, Western Union
5.We haveprofessional logistic system, to be sure the fast delivery and competitiveocean freigh charge.
6.We haveprofessional chemical warehouse nearby Xingang port, which could ownig storagecapacity 6000m3
Company Information
ShenZhou Humate Biotech Co., Ltd., locates in Hengshuiarea,Hebei,which isnear to Xingang port,Tianjin. It possesses advancedproduction lines andcompleted quality control system. The quality of ourproducts has come upto an international advanced level.We have developedthree series ofproducts, potassium humate, Fulvate series and Humateorganic fertilizerseries with more than 20 types ofproducts.Furthermore, we have createdour own brands of X-HUMATE, and theannual output of all Humate series is over30,000 tons, WELCOME TO VISIT OUR FACTORY.
FAQ:
1.Are you manufacturer ?
Yes, we are manufacturer of humate organic fertilizers.
2.If you could offer free sample ?
Yes, we could arrange maxmium 1kgs free ssamples for customer's evaluation, but need customer to afford for the freight charge.
3.Could we visit factory ?
Yes, we welcome you to visit our factory any time.
4. Where is your factory ?
We factory, Shenzhou Humate Biotech Co.,Ltd. is located in Hengshui city, Hebei province, it's only 3.5 hours from Tianjin
5.What is your accept payment terms ?
We could accept T/T, D/P, L/C, Western Union.
6. What is your MOQ ?
The MOQ is 1 ton, but the price will be much more higher than FCL.
Please enter your email address for our mailing list to keep yourself our lastest updated.
Please send your message to us
*We will reply your inquiry to this Email as soon as we see it